Well hello there and welcome to the new blog! If you swung by last week I apologize for the huge mess that you probably encountered!
I finally took the plunge and migrated over to WordPress, however being a DIYer by nature I was too stubborn to hire someone to do the move for me. Lets just say that it was a very frustrating process. But I persevered and figured it all out thank goodness. Things are mostly back to normal around here–just prettier and a little more user friendly 🙂
Anyways I wanted to quickly pop in today to talk about vanity mirrors. As most of you know I've been working on our powder room makeover and we are finally at the most exciting stage which is shopping!
I've been indecisive on which vanity mirror to choose since the very beginning of this makeover. I feel like the mirror makes such a big statement in a bathroom so I want to choose the perfect one.  I am going to share the 9 farmhouse style ones that I've rounded up so far with you all in case you're also mirror shopping. So let's get to it!
My current favorite is this metal framed one with a shelf.  I love that the black goes with the black and white vintage style tile that we installed and the cute little shelf would be perfect to hold a plant and a couple of glass canisters.

Next on my list is this oval one with a wood frame. The wood tone would really warm the space up and the shape would fit nicely in our small space.
I also like the idea of doing a window pane mirror since I'm slightly obsessed with them.  And the fact that this one comes with a barn door slider is just icing on the cake!
This one solves the dilemma of choosing between metal and wood because it has both!  The whitewashed wood and galvanized metal pair together so perfectly. Plus it's on the smaller side so it would be wonderful for a tight space.
The shape of this one is super cool.  I'm swooning over distressed finish that makes it look like an actual antique.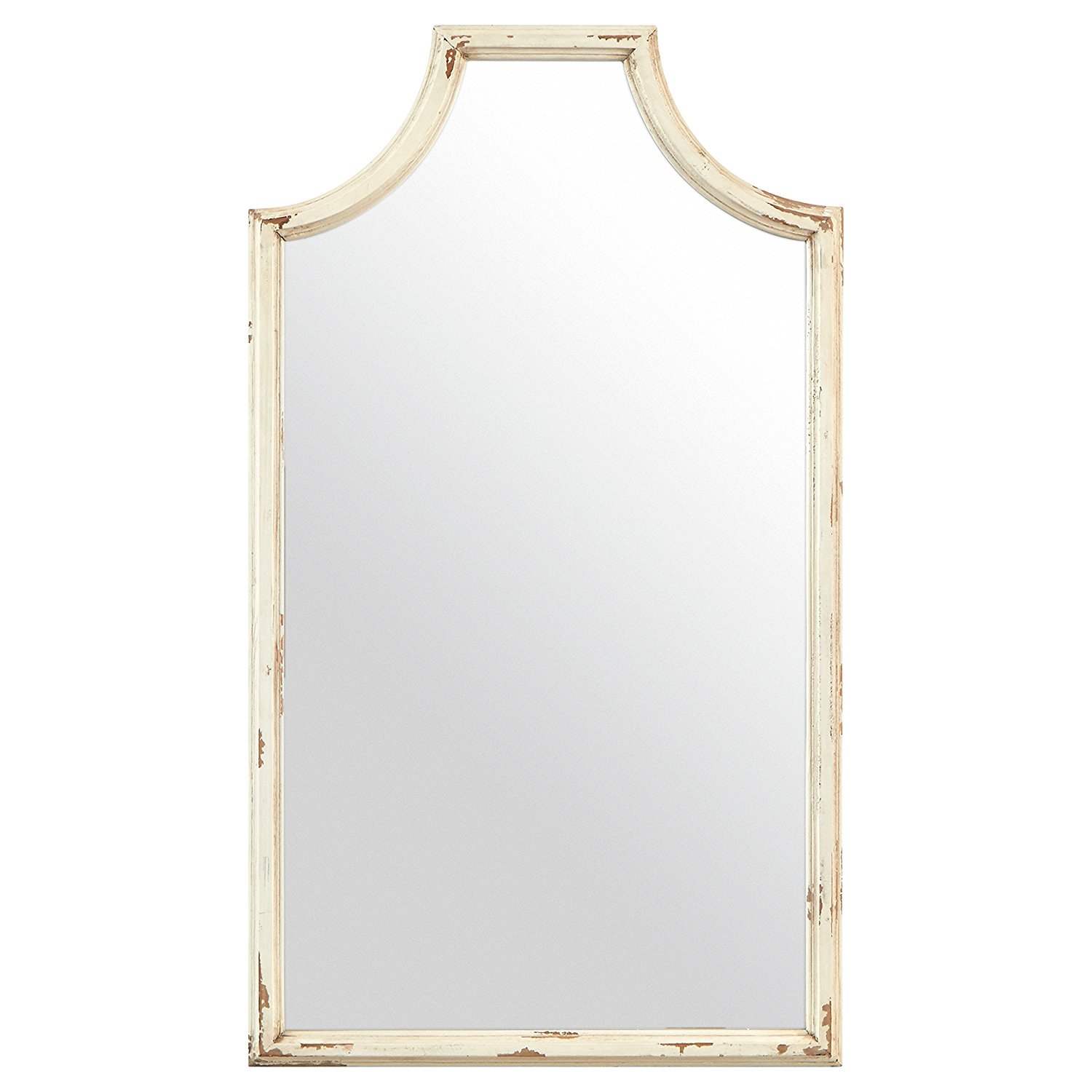 I actually just discovered this one while I was pulling links for this post. The detail is absolutely stunning and the size is perfect. The reviews are mixed but I'm considering giving it a shot since it's on Amazon Prime with free returns.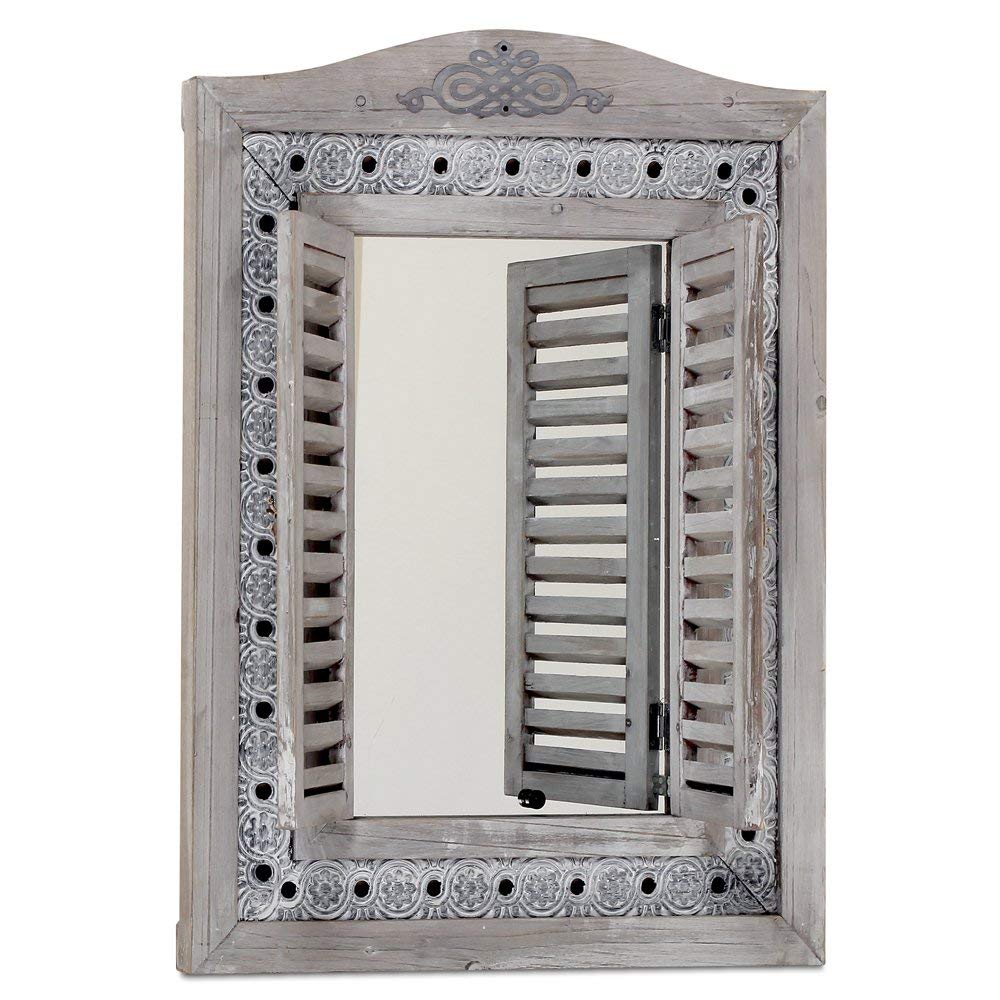 This barnwood framed one is nice and simple.  I like the minimalist feel to it and the warm wood tone is cozy and warm.
Here is another metal framed one with a shelf, however my jaw about dropped when I saw that it was only $89–especially since it's from Magnolia!  It's nice that you have the option to fold the shelf up.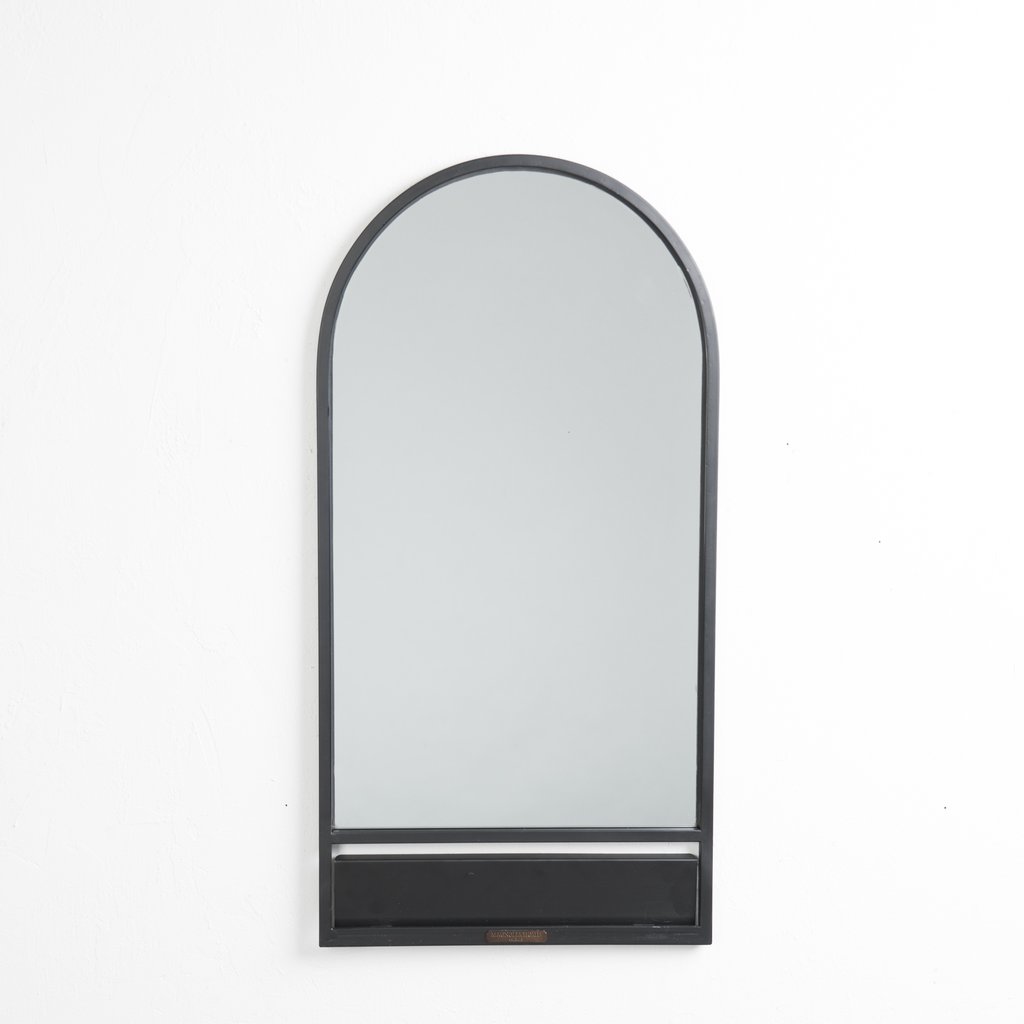 And last but not least, I am seriously smitten with this pivot one.  They are all the rage at Pottery Barn right now but I don't think I've seen one there under $200 which is way out of this thrifty girl's budget!  When I spotted this one for $84 I was shocked.  The copper finish is really fun too and would brighten the space up nicely.
So there you have it, nine beautiful farmhouse style mirrors that won't totally break the bank!  I think the first one is the most expensive at $115– and of course that has to be the one I'm most drawn to at this point.  Story of my life haha!
Stay tuned in the next coming weeks to find out which one I end up choosing!
I hope you all have a wonderful weekend and I'll see you back here next week to share a progress update on the powder room.  See you all then!
(Affiliate links may be provided for convenience.  For more info, see my full disclosure here.) 
Linking up to these awesome parties!