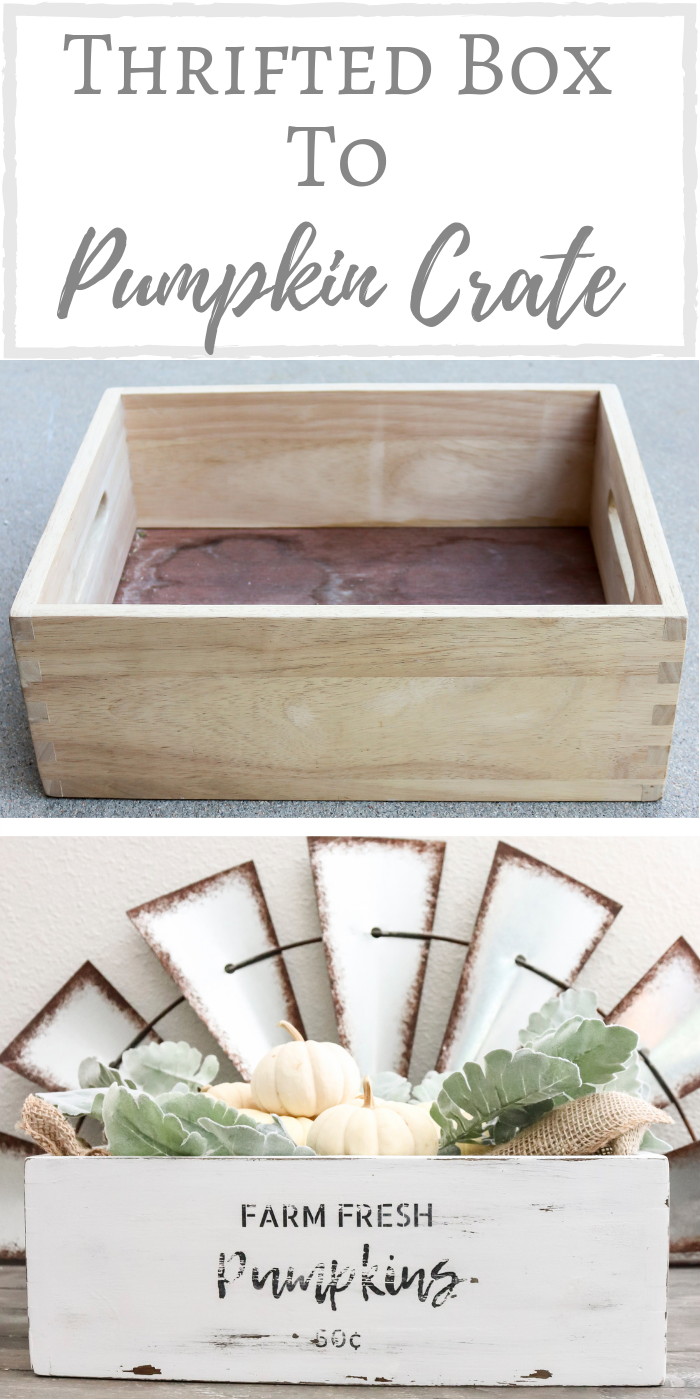 Well hello and happy Thursday my friends!  I hope you are all having a good week so far.  The hubby and I leave for our vacation tomorrow night so it seems like time has completely slowed down and this week has been just draaaaaging!  
I'm trying to tame my nerves and excitement by staying as busy as possible which means that I am super excited that it's time to talk about this month's Thrift Store Challenge!
The Rules:
Upcycle an item(s) from a thrift store, resale store, or garage sale into a new piece of decor.
There's no monthly theme.
There's no budget to stick to.
Meet the Hosts
Angela | Simply Beautiful by Angela
Jennifer | Cookies Coffee and Crafts – Marie | The Inspiration Vault
Debra | Shoppe No. 5 – Michelle | Our Crafty Mom
Habiba | Craftify My Love – Ali | Home Crafts By Ali
Jeanie | Create and Babble
Make sure you follow our board on Pinterest for more upcycled decor inspiration!
So a couple of weeks ago I spotted this wooden box at Goodwill and although I wasn't sure what I would use it for at the time, I couldn't pass it up.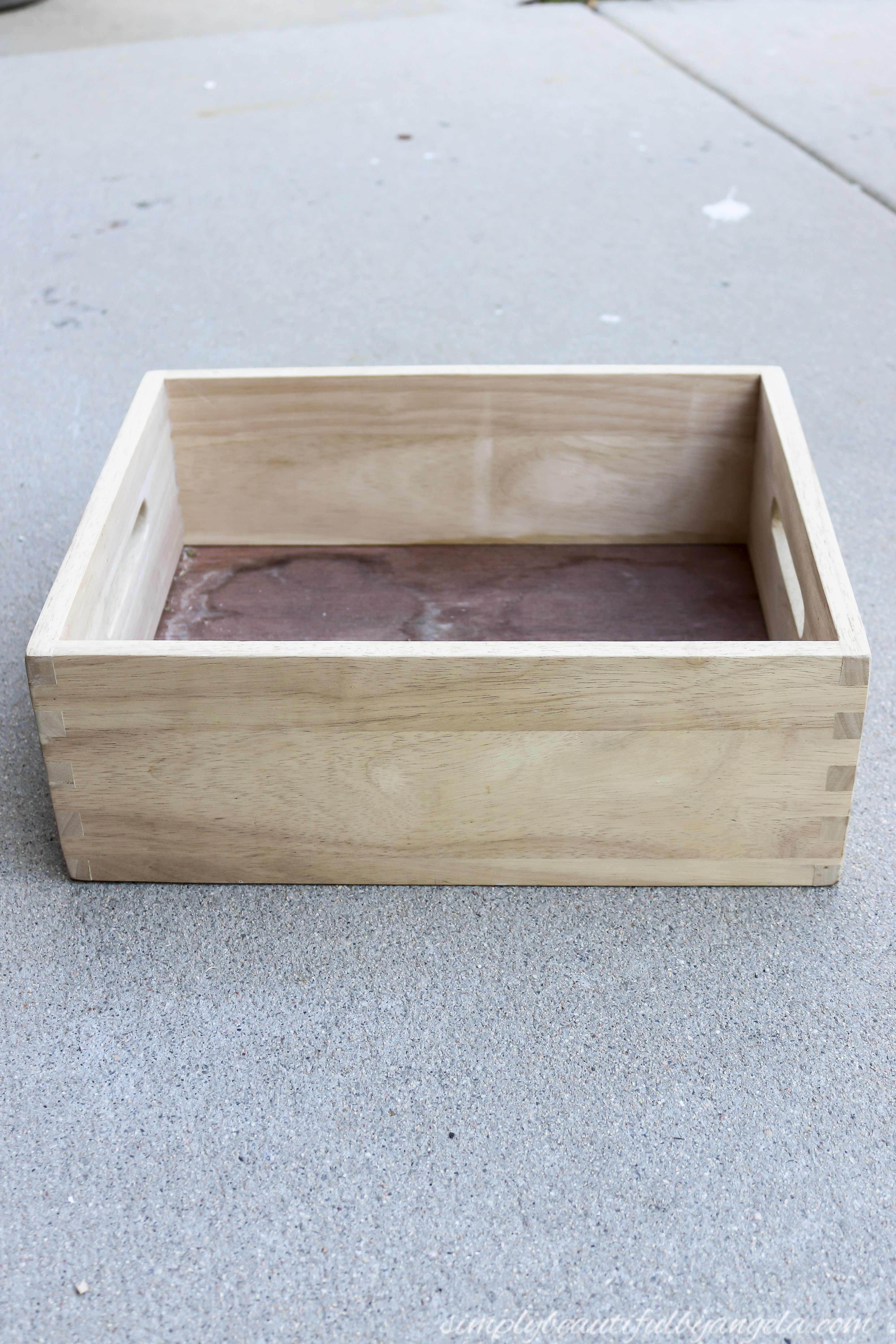 As I was rummaging around in the garage last week I discovered it and since I've been slowly adding fall decor around the house, I had the wonderful idea of turning it into cute pumpkin crate!
Supplies Used:(Affiliate links may be provided for convenience.  For more info, see my full disclosure here.) 
White Latex Paint

Printed Image 
Mod Podge
Paint brush
Rag
I began by applying my favorite wood stain to the sides.  I didn't bother with the inside since I knew that it was going to be filled up with goodies when it was finished.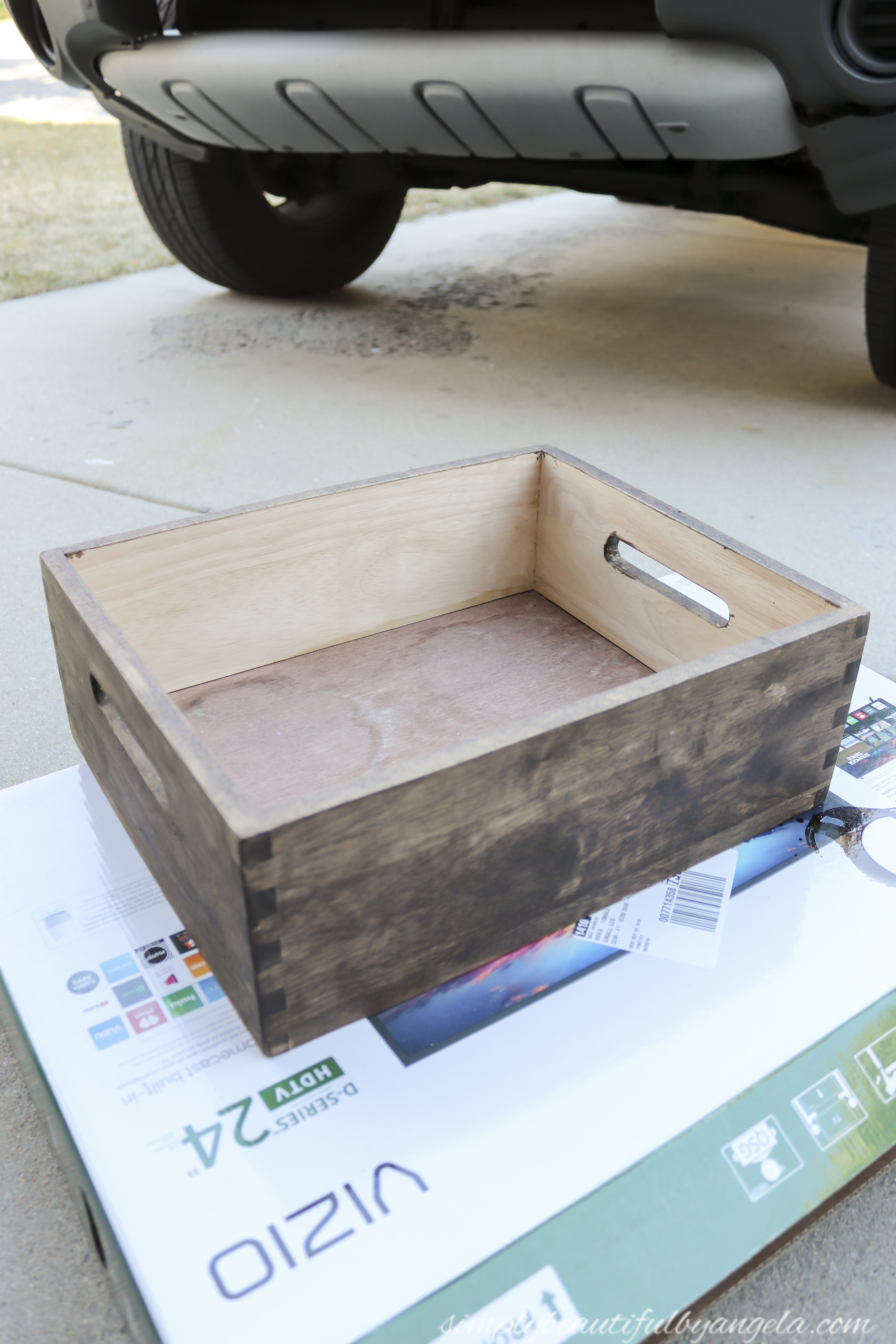 Next, I went around with a small amount of Vaseline and randomly applied it to the edges and corners.  I then applied two coats of white paint and went back with sandpaper to distress it.  The spots with Vaseline didn't adhere the paint well so it peeled off perfectly in those spots.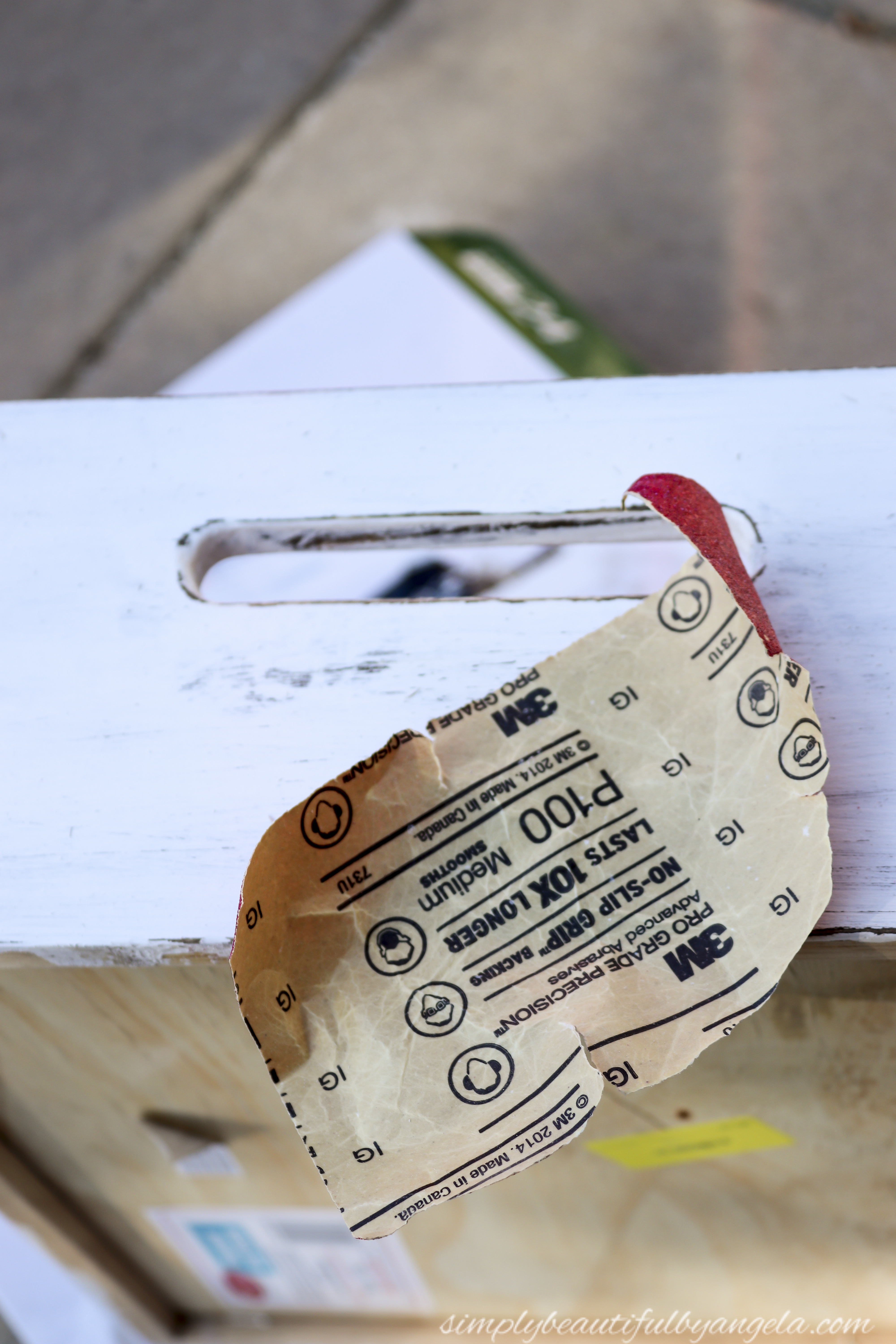 My usual image transfer method is to trace it with a pen to create an indent and then go back over it with a small paintbrush.  But I decided to try something different and I'm hooked!  I simply printed out a mirror image of my text that I created on Canva and then brushed Mod Podge on the center of the box before placing the image down, making sure to press it down as firmly as I could.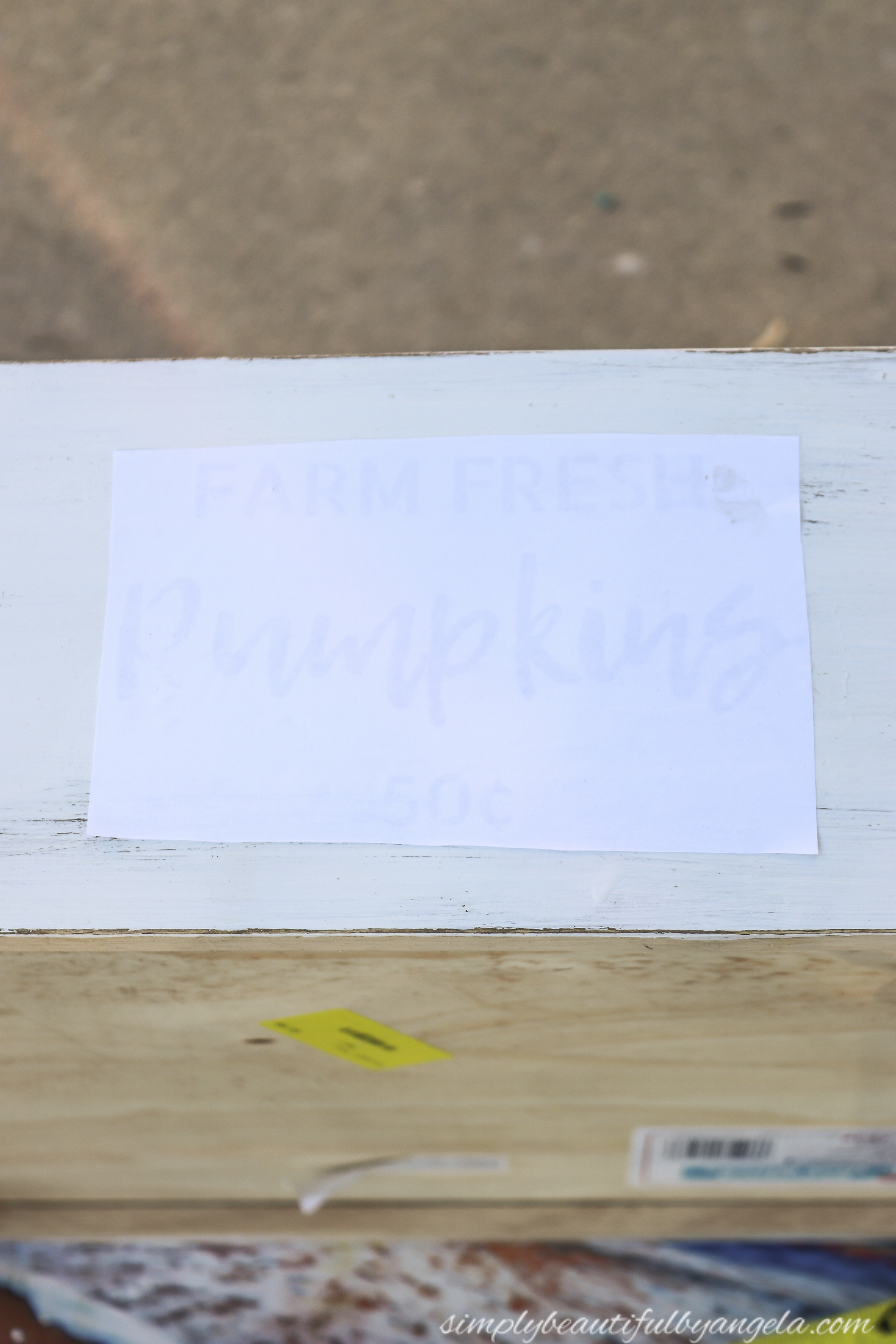 I let it sit overnight and then nervously came back the next morning with a wet rag and began to wipe off the paper.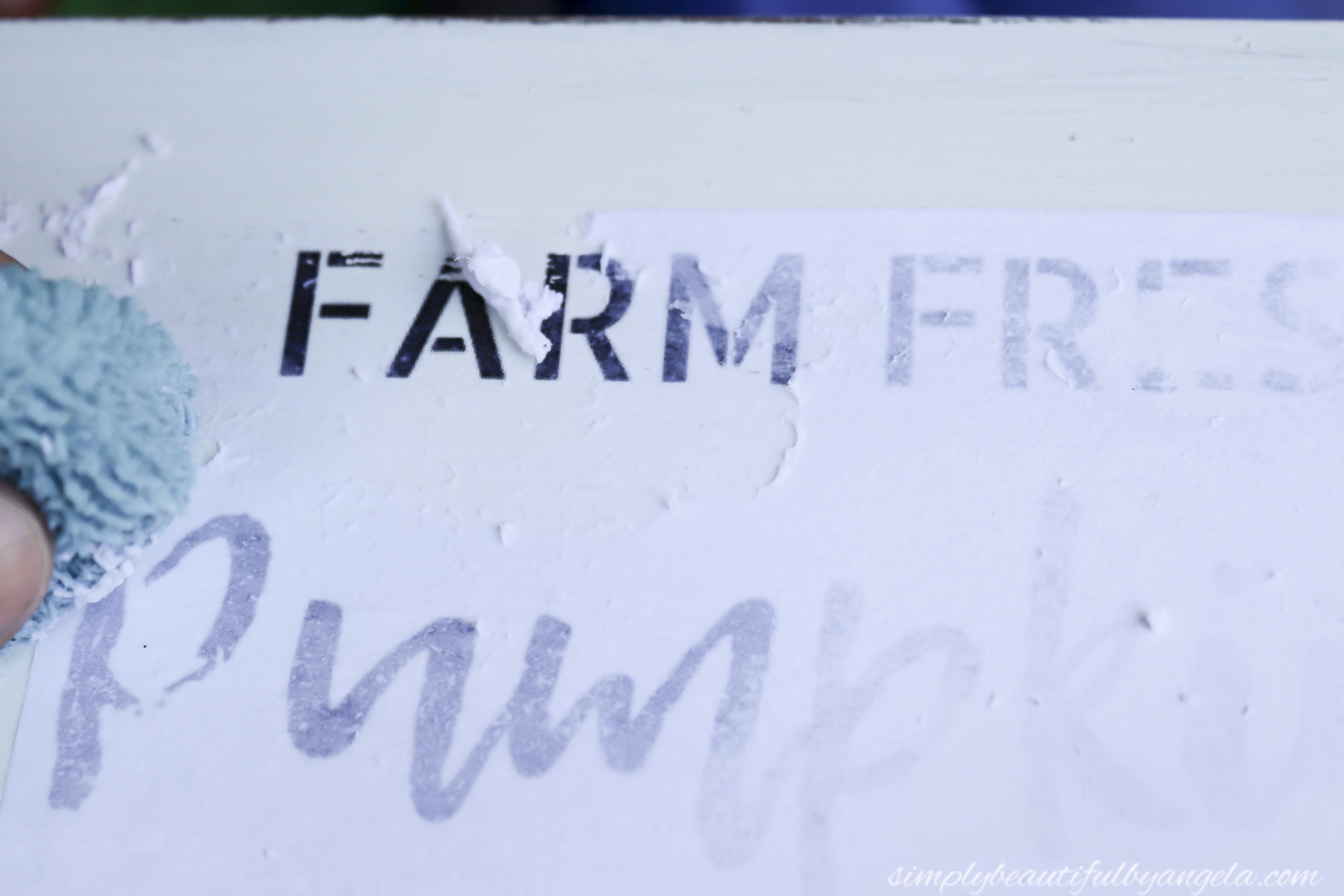 I used a little too much pressure in some spots but luckily since I was going for a worn look it worked out perfectly.
I put an old box inside to raise it up a little and covered it with burlap, faux greenery and some mini white pumpkins and then called it done!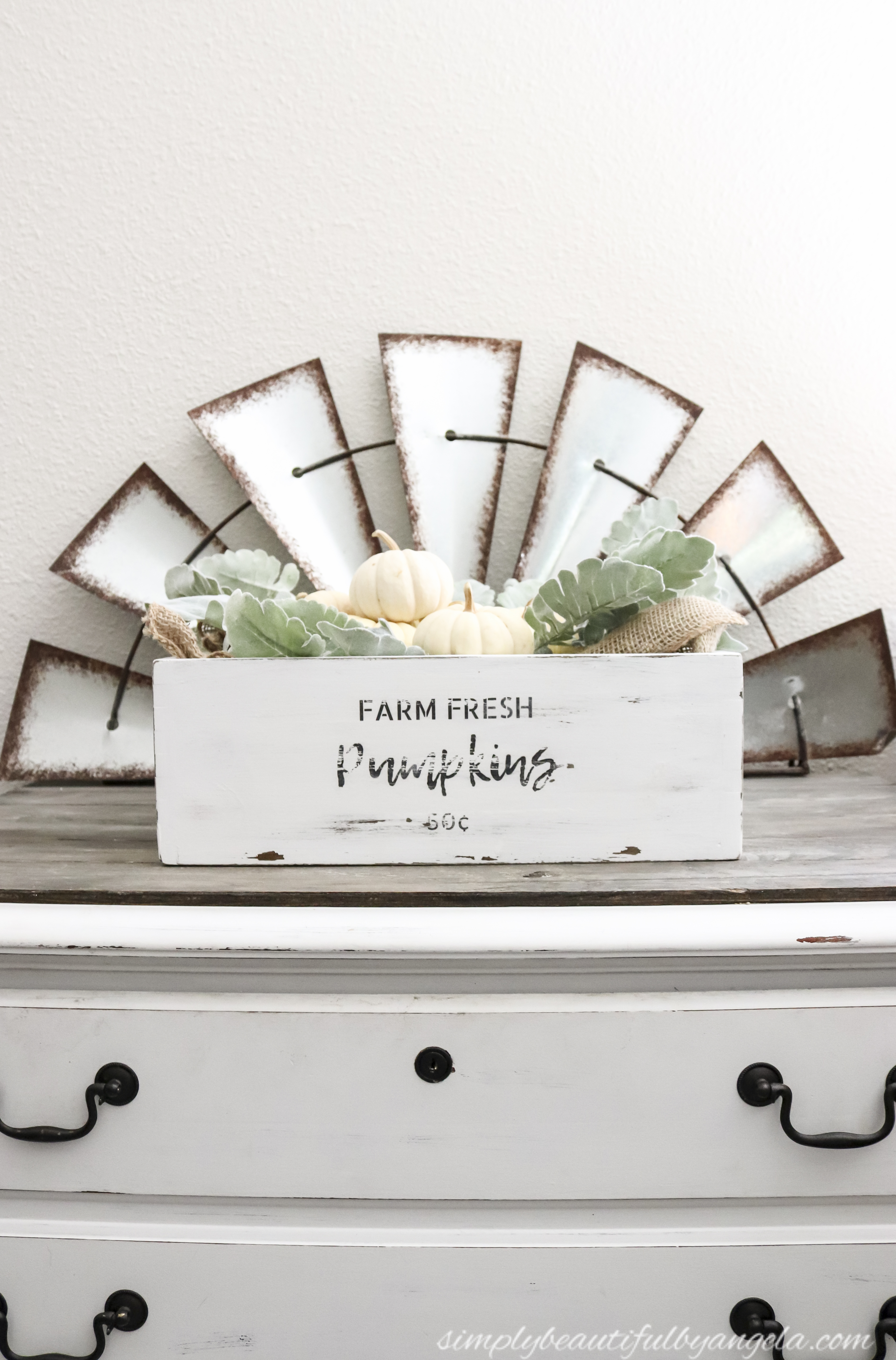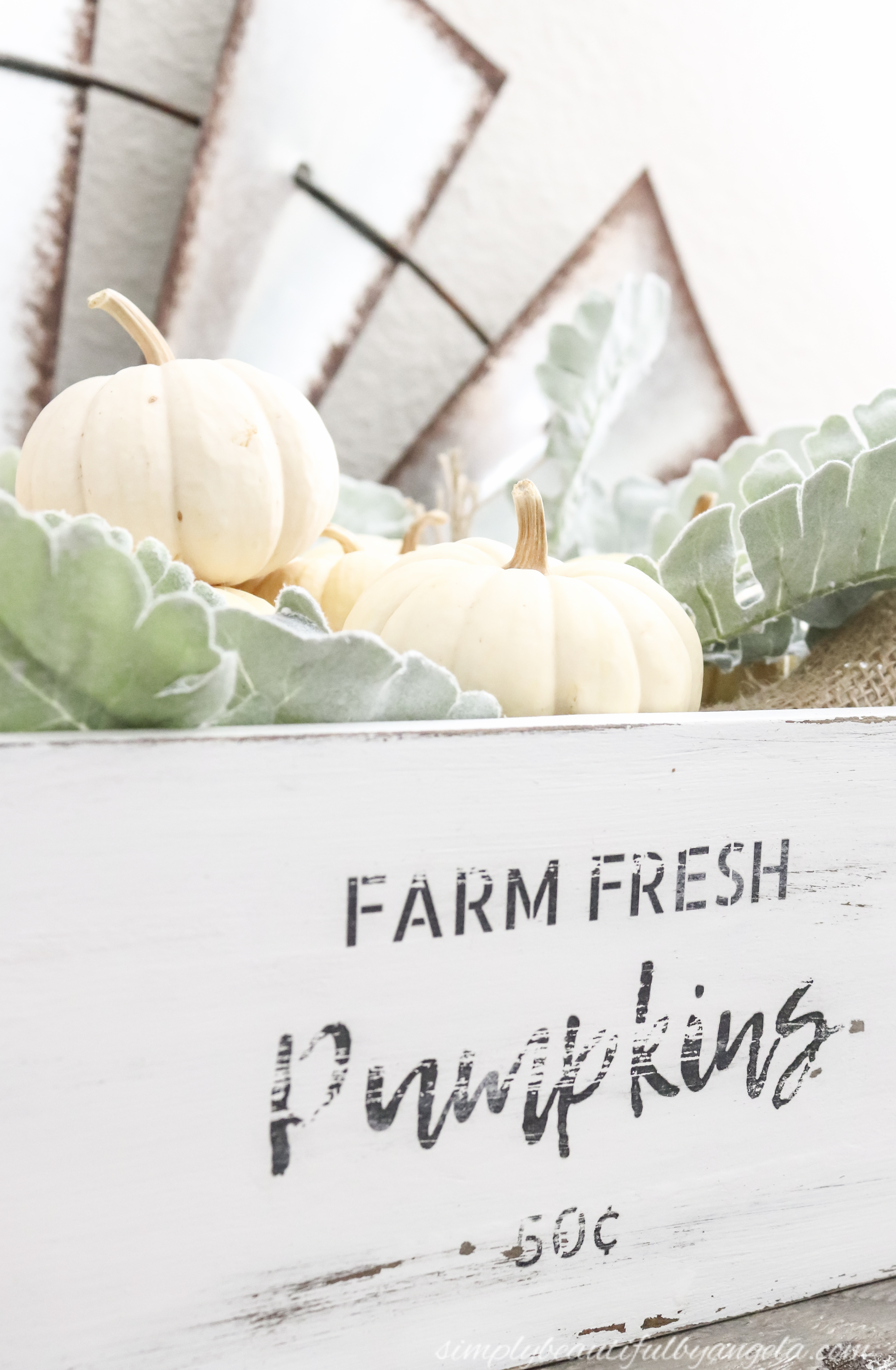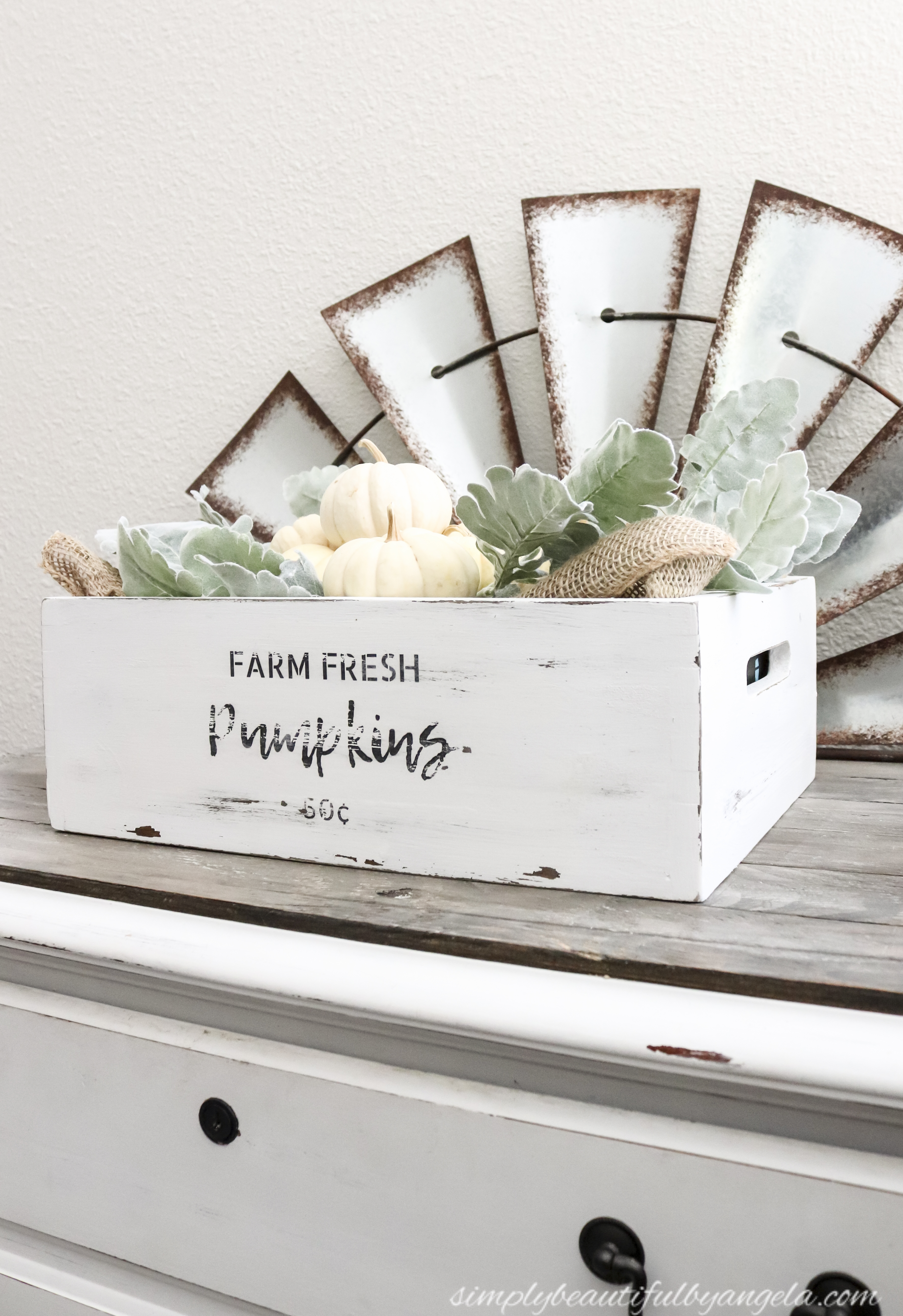 It turned out even cuter than I thought it would and it looks so good up on this dresser in our living room.  Simple and sweet!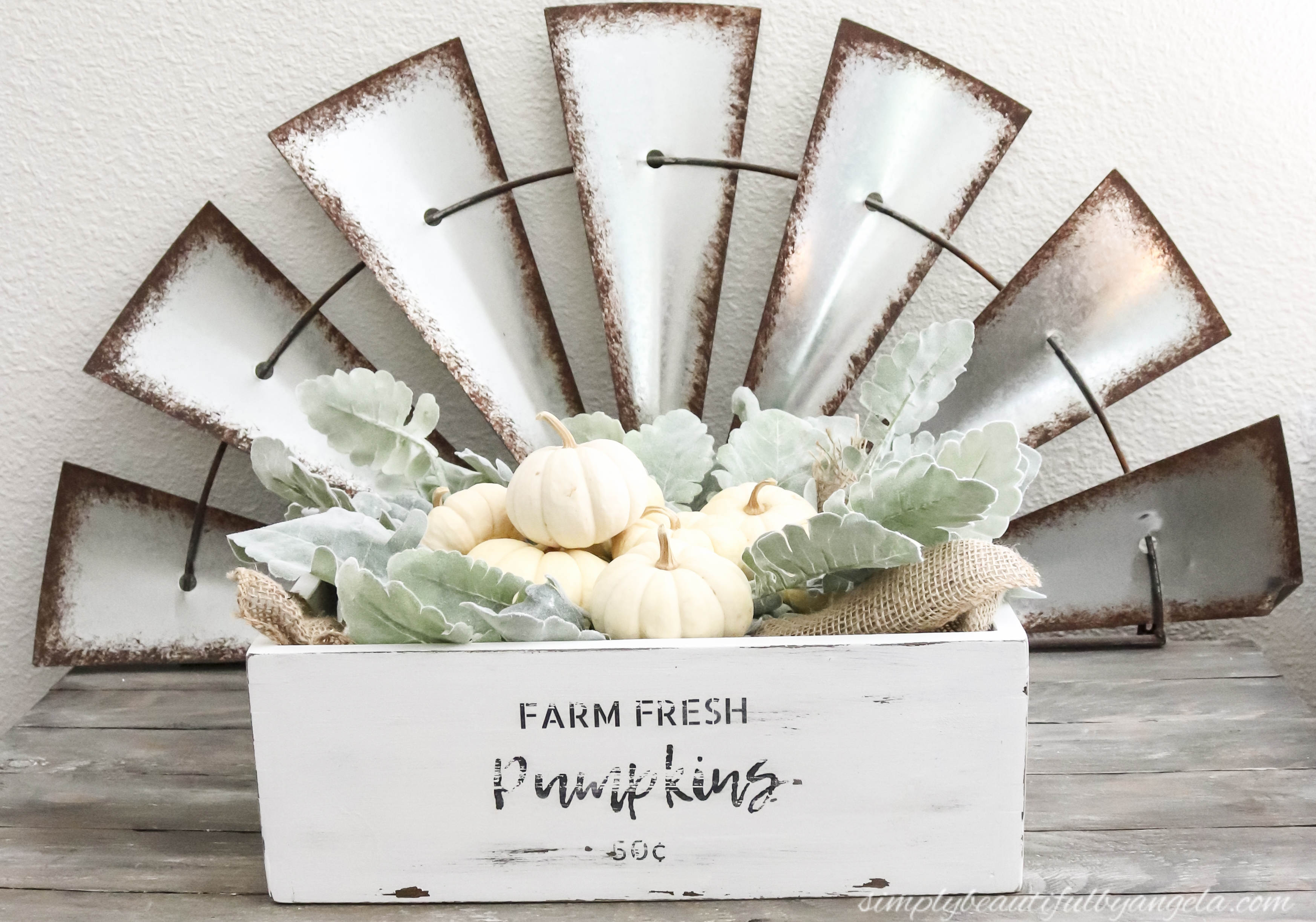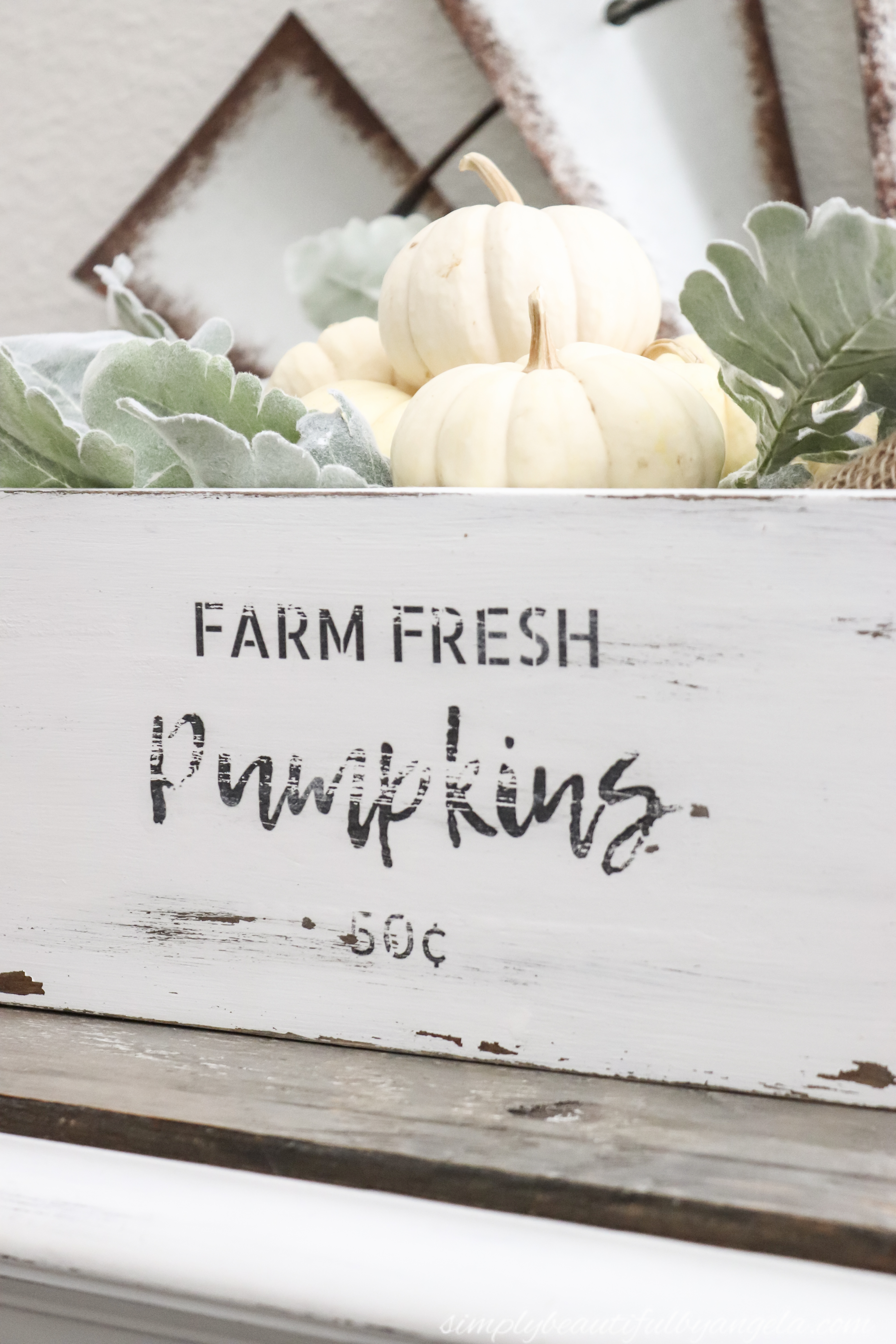 Oh white pumpkins, how I heart you!!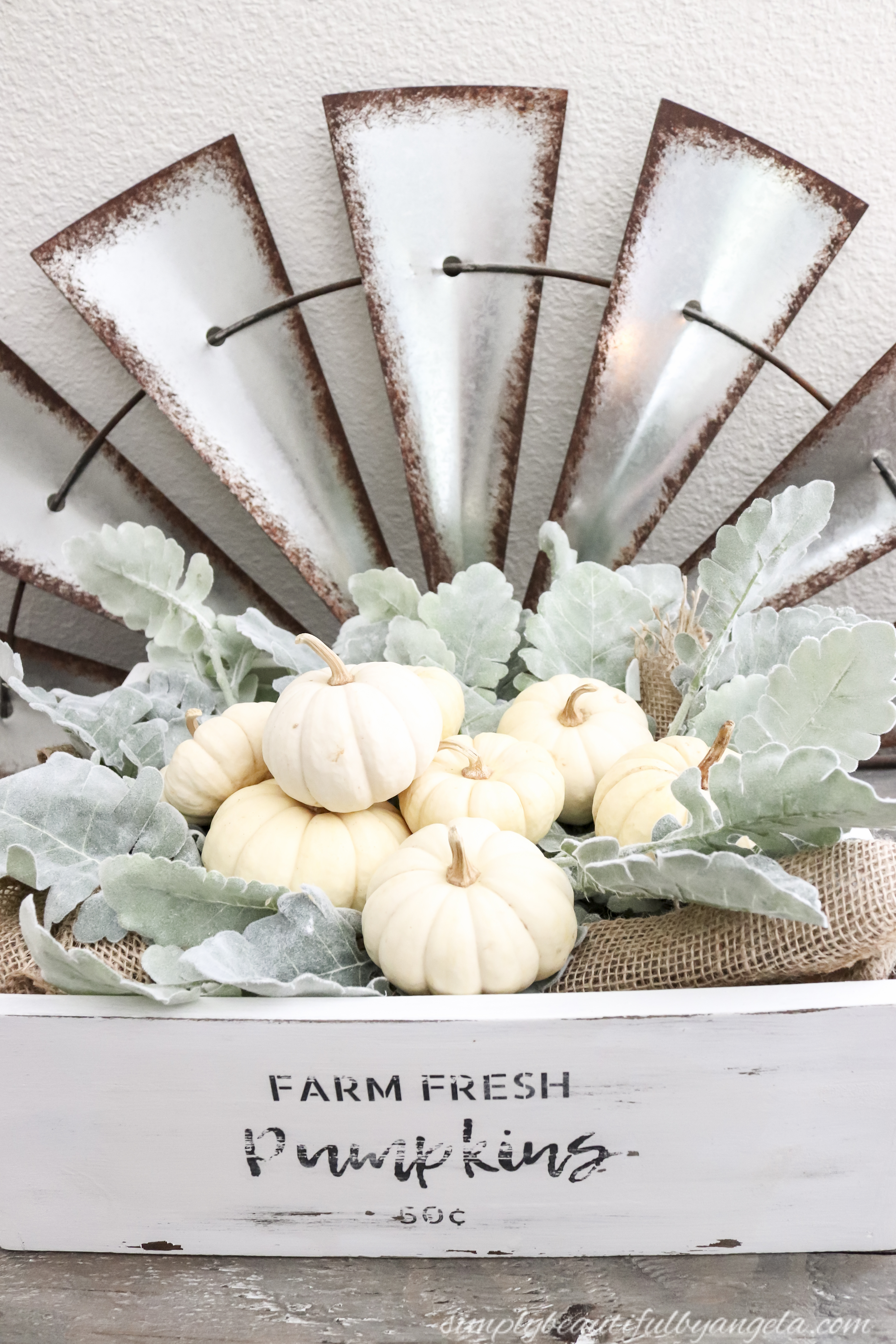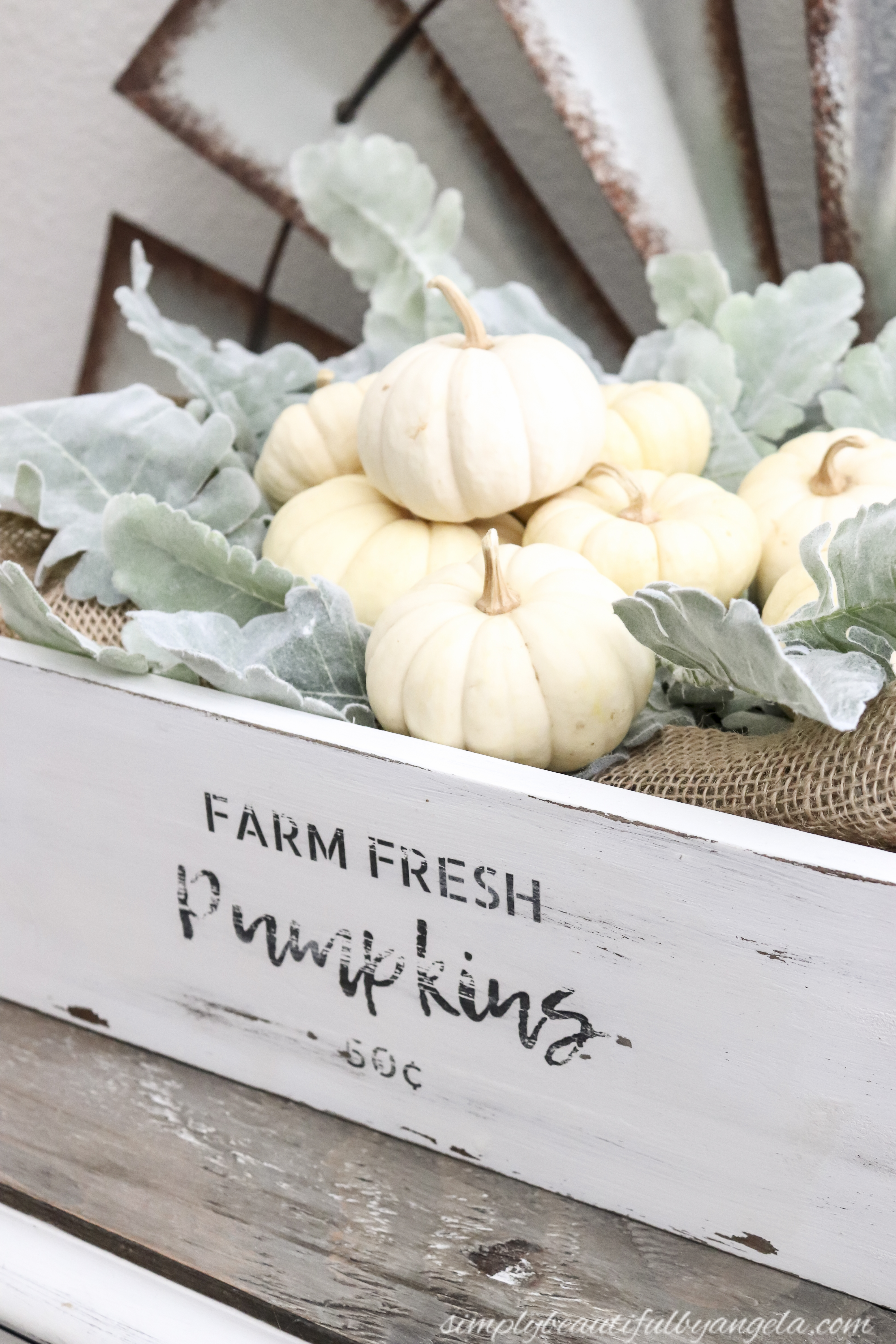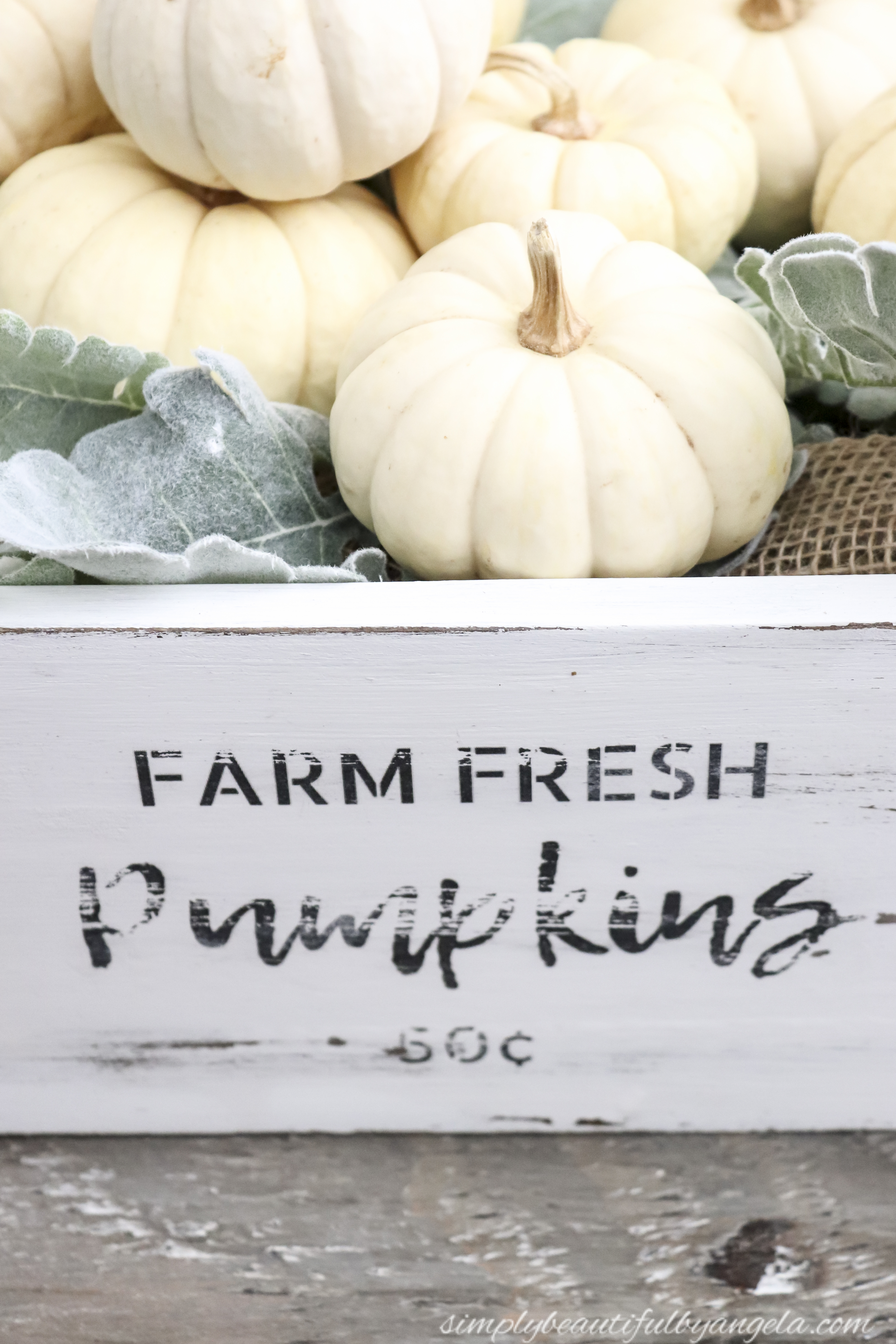 Thanks for swinging by today!  I will be back after our vacation 🙂
---
And now for more thrifty goodness!
Check out what my fellow upcyclers created below!